compass
Successful products based on market and competition analysis
What makes your market and competition analysis successful?
Market and competition analyses as carried out today rarely meet expectations.          In other words: effort and benefit are not in proportion to one another.
The interest in "benchmarking", comparing with the competition, is growing steadily – not only thanks to rapidly increasing globalization and digitalization. Nevertheless, these trends make market and competition analyses all the more important. The high expectations of decision-makers are often not met.
In our experience, there are two main reasons for this:
On the one hand, simple "product feature benchmarks" do not provide sufficient insights.
On the other hand, obtaining and cleaning the required data is very time-consuming and often does not receive the required attention.
A successful product strategy is based on external input
Successful products can only be built if, in addition to the "inside-out" view of one's own products, sufficient knowledge of market needs and the competition is also available. Because only then new products can be
Customer-oriented – successful products solve a real customer problem.
Differentiated – successful products stand out from those of the competition.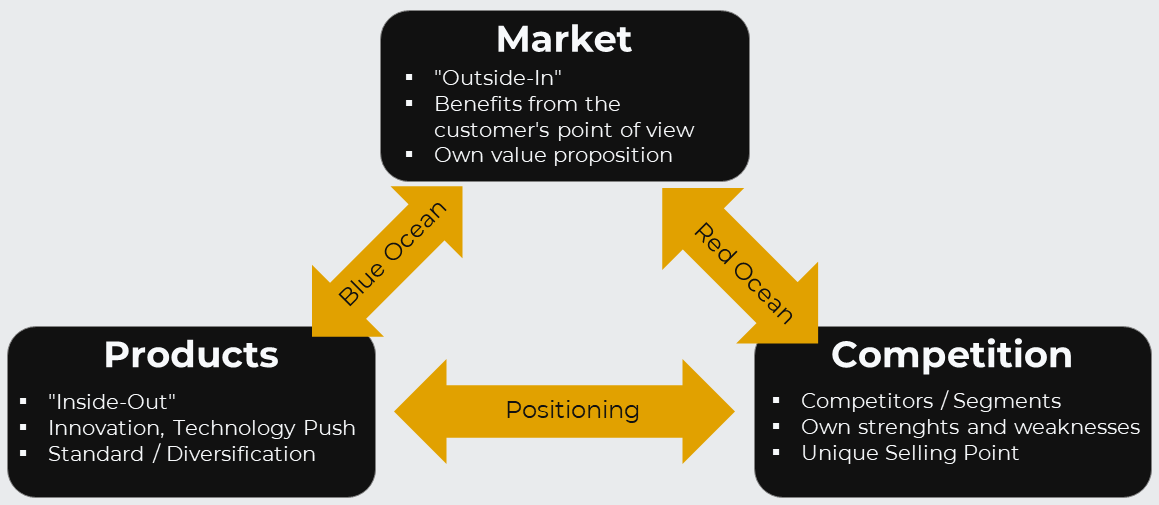 That is why, with our innovation-driven approach, we bring together the three perspectives "market", "products" and "competition":
Comparison of products with market needs provides insights into "product-market fit"
Comparison of products with the competition reveals own strengths and weaknesses
Structure and benefits of our approach
A successful market and competition analysis is not a project, but a continuous task! To realize this, the required data basis is needed –  always up to date and qualitatively high. The most promising leveraging possibility for optimizing the cost-benefit ratio is therefore automating data retrieval as well as cleansing as far as possible.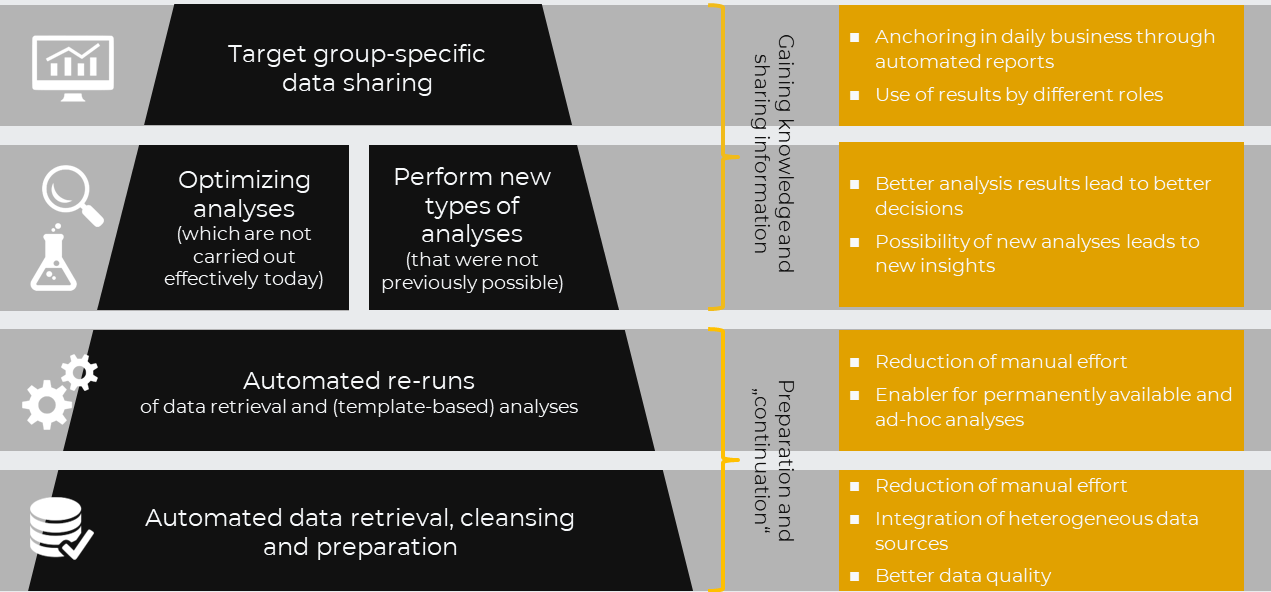 The software implemented in the "compass" innovation-project is based on a continously steady state of knowledge about the needs of relevant market segments and the company's own as well as the competitors products. Based on this, we perform AI-supported, automated analyses that deliver insights of unprecedented quality. We achieve the greatest possible benefit by sharing our insights with a broad user base within the company. In addition to product management, these are primarily marketing and sales, but also management or controlling.
Our goals from the user's point of view:
Aligning the target market with real market needs.
Identifying new product opportunities
Targeted development of existing products
Better understanding one's own USP and also being able to communicate it
Better pricing strategy and benefit argumentation for product management, sales and others
Stabilization of market and competitor analyses with significantly reduced effort
Automated data acquisition and observation of the competition
Software features
AI-based analyses with innovative and meaningful visualizations
Simulation of benchmarks for new products even before development: "Find the next Cash Cow".
Finding suitable products, incl. benefit argumentation for a give competitor's product
Analyzing and visualizing historical data (e.g. price development per region or industry)
Information transfer: Use of the results by other roles in the company
Get in touch!
Are you interested or do you have any questions about the compass project? We look forward to hearing from you!
Contact us